Painting by Dark Forge Studio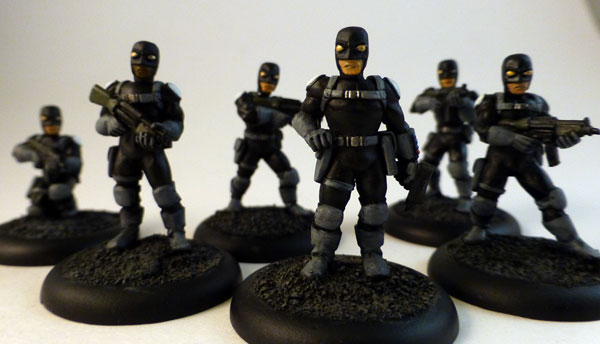 I recently had some models painted by Dark Forge Studio, a painting company out of Belfast in Norther Ireland.  I needed some models for photo shoots and I wanted them to look better than I could do with my brush.  The gentleman at Dark Forge Studios were great to work with and I'm quite happy with the models.
Our requirements are a little different than most miniatures as we have three heads for each model, so of course I wanted to have each head painted but not attached so I could switch them out for photos.  They painted our Paramilitary Goons in the nice dark shades that I asked for, but surprised me with the Heroes.  The guys at DFS managed to mount each of the heads on magnets and sink a magnate into the body of each.  So now I have some very versatile models with some great paint jobs to boot!
If you are looking to have some miniatures (ours or any miniatures) painted, give them a shout at Dark Forge Studio.