Super System Stats for Crossover Miniatures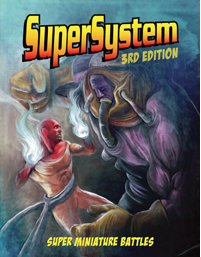 I was contacted by Scott Pyle last week.  For those of you in the know, Scott is the creator of the Super System 3 rules for Super Hero skirmish gaming.  They are a fantastic set of rules with full character creation and allow you to make any Hero you can imagine.  There are loads of different super hero RPG rules out there, but for just getting down and mixing it up in combat these are the best rules around for Super Hero fans.  Since I'm not an RPG gamer, I don't think I would have ever started this project had I not found the SS3 rules.
That being said, I was extremely excited when Scott offered to stat up our models for the the SS3 rules!  Below you will find a link to the stats he's created and even a new rule to cover groups of normal guys (our thugs and cops) for use in SS3.
Here is a link to our page where you can find them
Super System 3 Stats for Crossover Miniatures
And if you don't already own Super System, you can check out the rules at the following link
So, thank you very much Scott, I really appreciate you going to the trouble of doing this for us.